PolyVinylChloride (PVC) Gallery


Polyviynylchloride, also known as PVC is readily associated with sprinkler pipe.
But to those who have attended the infamous Burning Man Festival we know that it's not just for landscape irrigation anymore!
To fellow Burners, PVC can see use as Art, Shelter, or Housing.
At my local DIY retailer, the employees in the PVC section know me all to well for my various non-irrigationary PVC projects,
and express apt interest and curiosity when they see me pouring over the various connecters and fittings.
Here's a few humble examples: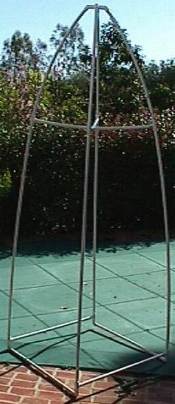 PVC Lantern Stand:
This construction places a propane lantern approximately three (03) Metres above the ground and is one square Metre at the base.
It provides light for my camp, but since it is placed at the front of my camp it does a greater duty of providing Community Lighting.
This lantern stand has provided community lighting for the Blue Light District Village (Burning Man 1997-1999), and Gigsville Village (Burning Man 2000-2001)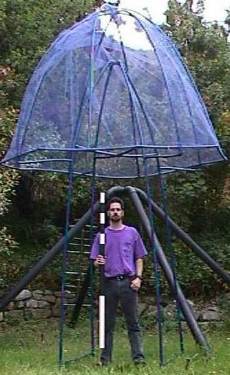 Big-Ass PVC Blue Mushroom Lantern Stand:
I Added half-inch Schedule 125 PVC and blue chennile to the previous lantern stand and transformed something from functional utilitarian into something decorative and sculptural!
I'm standing underneath to give you an idea of scale.
I'm also holding a 1.5 Metre Scale Pole (also made from a piece of painted 1.5" PVC) if you wish to be able to estimate size/distance a little more accurately
This Lantern Stand/Sculpture appeared in front of my camp at the 1999 and 2000 Burning Man Festivals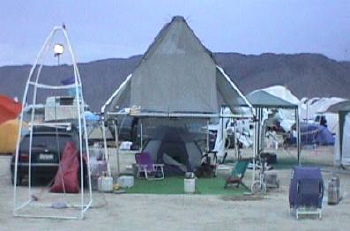 My Camp at Burning Man 1998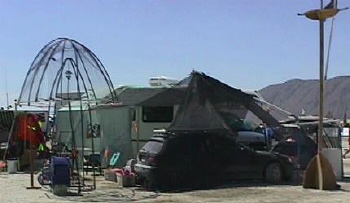 My Camp at Burning Man 1999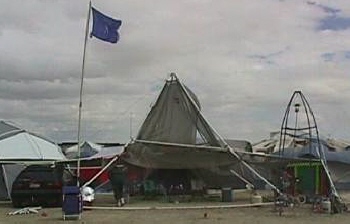 My Camp at Burning Man 2000
1.5 or 2" PVC forms the structural basis for the shade structures.
Also visible is the aforesaid Lantern Stand.
The makeshift Post Box has a fabric cover over a PVC frame
The flagpole is made from a 20' long piece of 1.5" PVC and stiffened with a 10' pice of 2" PVC


Return To Main Page


Peter Isaacson
PENFOLD
http://www.penfold.net/PVC.html


Copyright ©2006 · Peter Isaacson · Rev 200604.13